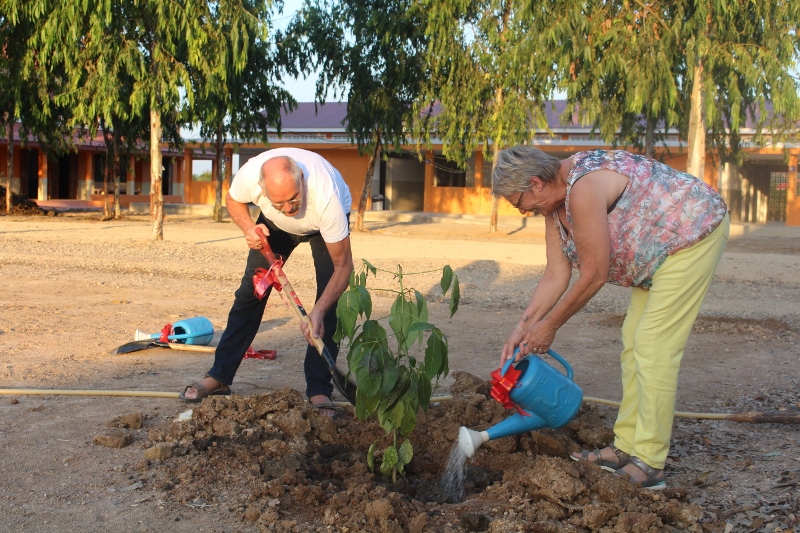 Xavier Jesuit School was so delighted to finally meet up with Anne and Henk from the Netherlands. Anne decided to walk in the footstep of Rico. Rico is Anne's son who was killed during his mission as a Dutch soldier of the United Nations in Sisophon. Anne's love for her son was so deep and its depth has impelled her to return to Cambodia and offer a small token to benefit the local people of Sisophon. Through Anne, the Rico's Foundation of Cambodia had generously donated playgrounds for our little students in Phnom Bak as well as in Dey Lo. Below is a brief speech from them to the Xavier Jesuit School community:
"Dear friends,
We are Anne and Henk from the Netherlands also known as Holland. Firstly, we want to thank you for the hospitality and cooperation that we have enjoyed on our visit here.
In 1993 Anne's son, Rico, was a Dutch soldier of UNTAC in Sisophon and the surroundings. He was also a soldier here on the hill of Phnom Bak. On the compound in Sisophon there was a colleague playing with his gun. The gun fired, and the bullet struck Rico. He died as a result of this accident.
We came to Sisophon for the first time in 2010. We wanted to put our feet in Rico's footsteps. We agreed to come back here and see if we could do something for the poor children – and now we are here.
A few years ago, we started a foundation called the 'Rico's Foundation of Cambodia'.  We collected many things and also money. In recent years we sent many of these things to Father John Viser SDB, – toys, clothing, shoes, teddy bears and school materials.
Hence, we found during this visit to Xavier Jesuit School, some of the things we had sent earlier and they are in your classrooms.
And now we are here to donate the money that we have collected, thanks to our family and many friends. We are very happy to present this cheque to Father Quyen, Director of XJS.  We are very happy to know that this money will be used for making playgrounds for the children of Xavier Jesuit School in Dey Lo and Phnom Bak."
Xavier Jesuit School would like to express our sincerest thank you Anne and Henk and to all the donors who have helped to keep Rico's legacy alive. We hope you will come again to see how the children will enjoy the playgrounds and the trees they have planted on our school ground.
Comments
comments