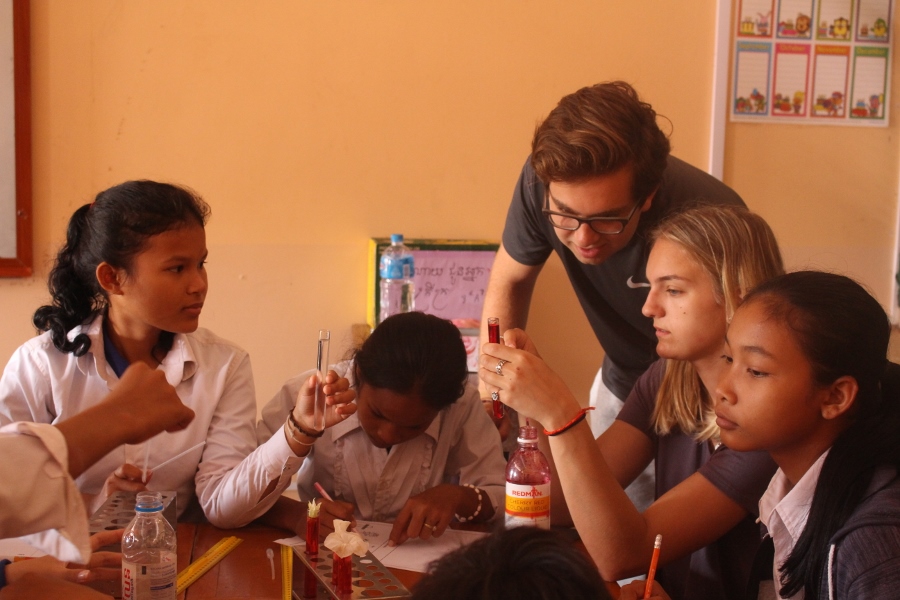 From the 16th to the 30th of November 2017, three university students from Melbourne Australia taught English to the students at Xavier Jesuit School. Instead of traveling around Asia or spending their university holidays lying on the beach Dan Murphy, Maddie Terlato and Tom Arvanitis, volunteered to Xavier Jesuit School to give English lessons to our students.
During the day they co-teach with our English teachers at Xavier Jesuit School teaching grades 7 & 8. And in the afternoon, they helped with English Classes in the Community Learning Centre as well as taught the staff in the office of the Jesuit Social Services in Sisophon.
Here are their reflections of their time at Xavier Jesuit School.
Dan Murphy writes:
What an experience. From the outset, the Xavier Jesuit School provided a sharp contrast with traditional schooling in Australia. I've never seen children so eager to learn and develop. In Australia, I feel as though many take their education for granted, realising I myself was guilty during primary school when I would come down with 'Monday-itis' (pretending to be sick every Monday in an attempt to miss school). I went into the experience thinking that I would help these children develop their education, but I left with the realisation that I was an over-privileged white male, living in an upper class society that takes for granted things that these children thought were so grateful for. The children gave me friendships and memories for many years to come but also showed me the affection friends in this country show each other. The constant holding of hands between boys, girls, or a mix seems rare in Australia, leaving me to ask why? It was such a lovely sight, seeing friends constantly hugging, holding hands and smiling. It almost made me forget that we were in a third world country. Whilst they may be financially poor, these children are richer in life than anyone I have met in my 19 years. The staff at Xavier Jesuit School were mind blowing people. They were full of vitality and worked so hard just to give the children the best chance at an education as they can, and they are doing a terrific job. While confronting it was an unforgettable experience, one that has left me not asking 'if' but 'when I will go back".
Dear Fr. Quyen,
Firstly, thank you very much for the unforgettable experience you offered to Dan, Tom and myself. Teaching English at the Xavier Jesuit School was truly gratifying and rewarding for the three of us. The students were vibrant, welcoming, grateful and hungry for knowledge and the teachers were all dedicated and extremely hard-working. Because of this, both the staff and students made my time at the school even more enjoyable. My friends and I were embraced and welcomed from the moment we arrived and developed relationships that we will always cherish. I am so grateful for this opportunity and am glad I could help others while also learning more about Cambodian schooling and culture! I do hope to visit Cambodia and your school again in the future.
Many thanks, Maddie Terlato
Dear Quyen,
Thank you very much for your kind hospitality and the incredible experience you offered Dan, Maddie and myself whilst we taught at your school in Sisophon – they were two of the most amazing weeks of my life! Now back home in Melbourne, I can't help but draw upon the uniqueness of Cambodian society in comparison to Australian. The people of Cambodia, especially the students that we taught at the school, were some of the most generous, enthusiastic and warm-hearted that I have ever met. The way in which the kids and the rest of the teaching staff embraced us at your school was very special to experience. The students' keenness to learn and pure joy that they brought every day to class was touching, and I'm sure that the friendships made with the kids will continue. If anything, the two weeks spent with yourself and the students taught me to be very grateful and fortunate for everything that I have in my own life back home. It has allowed me to grow as an individual and be open new experiences in life.
So, again, thank you so very much Quyen for welcoming us into your school and community. And hopefully, maybe, another trip up to Sisophon and your school is possible sometime in the future.
Kind Regards,
Tom Arvanitis
Comments
comments