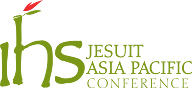 The Jesuit Conference of Asia-Pacific
The Society of Jesus – also known as the Jesuits – is a religious order of men within the Roman Catholic Church. Founded in 1540 by Ignatius of Loyola and nine companions, the Society numbers close to 18,000 men and is present in more than 125 countries.
Jesuit communities and apostolic works are organised by "provinces" and "regions" that belong to six Conferences around the world. The Jesuit Conference of Asia Pacific covers Jesuit life and service in a vast area comprising China, Korea, Japan, Vietnam, Cambodia, Timor Leste, Laos, Thailand, Myanmar, Malaysia, Singapore, Philippines, Indonesia, Australia and New Zealand, and the countries of the Pacific notably Micronesia.
Comments
comments