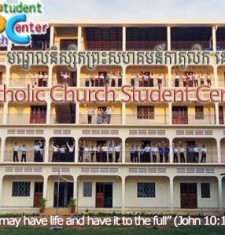 The Catholic Church Student Centre
The scholarship program for university education for poor young Cambodia of Catholic Church in Cambodia
Mission
The mission of Educators of the Catholic Church is to inspire hope, nurture growth and promote human dignity through the integral education of youth based on love thus empowering them to become responsible citizens whose actions are also based on love for the irrevocable dignity of each human person.
Description
More than 10 years of the center's mission has provided more than 100 scholarship to young Cambodians to study in University in Phnom Penh.
In 1998, the first group of students arrived from Battambang and Kompong Thom, five boys and one girl. As the university entrance examinations were poorly administered, none of these students passed and all returned to their provinces.
In 1999, the first scholarship group of eight students was accepted, five boys and three girls.
Comments
comments