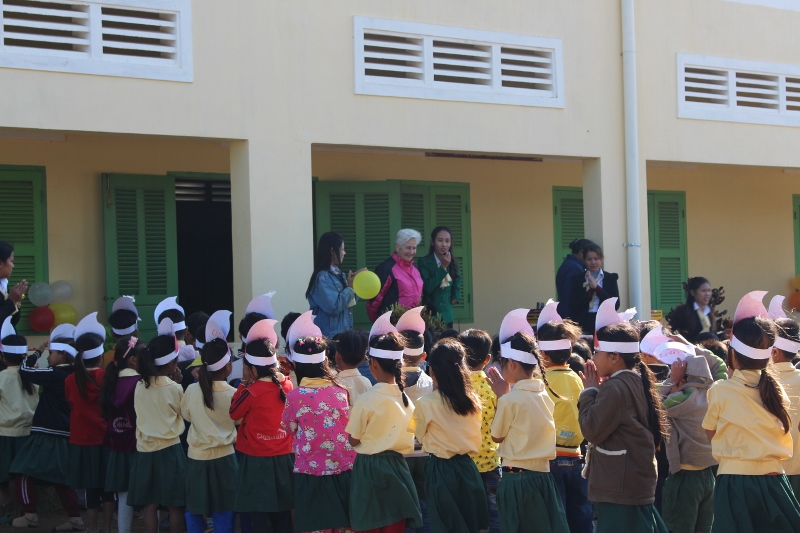 On the morning of December 22nd, greetings and laughter filled every corner of the playground in our school. All the children from our Kindergarten and Primary School were so happy to join their Christmas party. They were held in both simultaneously in Dey Lo and Phnom Bak Primary Schools. The day began with Assembly and the singing of the National Anthem. This was followed by physical exercises with additional passion, before the party started. The first program was a showing of cartoons, song and story about Christmas. During this time our teachers were busy delivering snacks and banana to every child.
After having eaten their bananas leisurely, the students participated with great excitement in the banana eating race; and two more dynamic games -balloon stepping and the rubber band contest. The games reached a climax that ended up in a grand gathering to dance.  We extend gratitude to our donors for the great joy that they brought to our children as each received their Christmas gift followed by a Christmas meal. The smiles on our children's faces showed us how satisfied and grateful they were on this Christmas Eve.
Our secondary school students had their celebration on the next day, Saturday 23rd. The day began with the exchange of presents in their classrooms. The students had not much money to spend, however the simplicity of the presents they received did no concern them.  It was the warm embrace of friendship that they most valued and enjoyed.  In the Multipurpose Hall, the students soon threw themselves into happy games. The scores they got in every game were accumulated to make the final winner. These energetic youth thus heated the hall with cheers. With throats sore from all the cheering, they then went to the canteen to have their Christmas meal.  The food which they themselves had brought was shared among one another. Our students were really delighted to receive the Christmas gift given by the donors. They knew very clearly that they were cared in this blessing session.
Our staff also cherished this opportunity to celebrate.  On the evening of December 22nd, the entire Staffs of Kindergarten, Primary and Secondary school, alongside our Administrative Staff and non-teaching staff gathered in the CLC for a BBQ party. We had beautifully prepared foods of many kinds and drink, alongside music and dance.  Most important was the sense of companionship that we share. There was conversation, laughter and sharing with each other throughout the meal. What a joyful community life!
Comments
comments